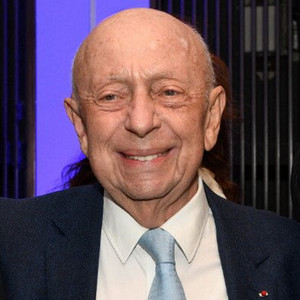 Avi Pazner
Israel
Avi (Aviezer) Pazner was born in Danzig (Gdansk) on 9 June 1937. He is married to Marty and has three children and eight grandchildren.
He spent World War II in Switzerland, where his father, Dr.Chaim Pazner z"l, the representative of the Jewish Agency for Israel, was involved in rescuing Jews in Nazi-occupied Europe. At the age of 16, he immigrated to Israel with his family.
He completed his secondary studies at the Gymnasia Rehavia in Jerusalem and served in the IDF Armoured Corps until 1959.
After completing a degree in political science and economics at the Hebrew University of Jerusalem, Avi Pazner began his career at the Foreign Ministry, in 1965.
Until 1971, he served at a number of missions in Africa.
He was appointed spokesperson of the Israeli delegation to the Peace Conference in Geneva in 1973-1974; this was the first in a series of appointments as the official spokesperson of the Israeli government.
It was a natural role for a person who is fluent in six languages: Hebrew, French, English, Spanish, Italian and Swiss German.
For the next seven years, Avi Pazner served as a counsellor at the Israeli Embassy in Washington, where he remained during the Camp David talks between Israel and Egypt.
He headed the Foreign Ministry's Press Division and served as the Ministry's spokesperson from 1981 to 1986.
That year he was appointed media advisor to Prime Minister Yitzhak Shamir He served in this role during the Gulf War, and helped prepare the Madrid Peace Conference.
In 1991, he was appointed Israeli ambassador to Italy, and also served as non-resident ambassador to Malta.
He later also became Israel's first non-resident Ambassador to Albania.
While in Rome, he opened the door to negotiations with the Vatican through a number of meetings with Pope John Paul II.
These contacts led to the establishment of formal diplomatic relations between Israel and the Holy See at the end of 1993.
In 1995 he was appointed ambassador to France, where he served until September 1998.
Toward the end of his term of duty, he was decorated by President Chirac as a Knight of the French Legion of Honour.
In September 1998, Avi Pazner was elected World Chairman of Keren Hayesod – United Israel Appeal, serving in this position until September 2010.
During this period, over $2 billion was raised throughout the Jewish world to finance the activities of the Jewish Agency for Israel and many projects in the fields of education, health and welfare in Israel.
Since the beginning of the intifada in October 2000, he has served as one of the official spokespersons of the Israeli government , during the terms of prime ministers Barak, Sharon, Olmert and Netanyahu.
Since October 2010, he has been the owner and chairman of the economic corporation, "Avi Pazner International Consulting Ltd".
He serves concurrently as a director of many public institutions, universities and museums.
In September 2012, he was appointed chairman of the International Book Fair in Jerusalem and also headed the Fair in February 2013.
Avi Pazner's memoirs, "The Secrets of a Diplomat", were published in France in 2005.
In October 2010 Amb. Pazner retired from Keren Hayesod and started representing the French Energy company "Areva" in Israel. He published his memoirs in Hebrew in 2017 in a book titled "From Paris to Rome". He is the Father of three children and the grandfather of two girls and six boys.
​On Wednesday, June 17, 2015, during a festive ceremony held at the President's Residence in Jerusalem at the presence of President Reuven (Ruvi) Rivlin, the 2015 Keren Hayesod Goldstein Prize for Distinguished Leadership was bestowed by KH leadership upon former KH-UIA World Chairman Amb. Avi Pazner.
Back
Privacy Overview
This website uses cookies so that we can provide you with the best user experience possible. Cookie information is stored in your browser and performs functions such as recognising you when you return to our website and helping our team to understand which sections of the website you find most interesting and useful.