Rabbi Doron (Laurence) Perez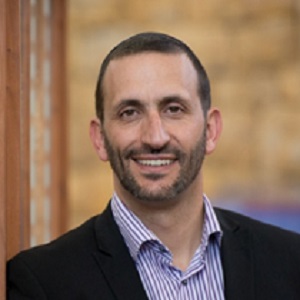 Rabbi Doron (Laurence) Perez
Israel
Rav Doron is currently Executive-Director of the Mizrachi World Movement.
He studied for 10 years in some of Israel's leading Yeshivot culminating in receiving Rabbinic ordination. He served in the I.D.F as part of the Hesder Program and has a BA in Jewish Education and an MA in Jewish History.
2000-2014 He served the South African Jewish community in multiple leadership roles; as a community leader, Rabbi and educator.  He served as the Rabbi of the Mizrachi Movement of South Africa during these years, the Senior Rabbi of the vibrant Mizrachi shul in Johannesburg, and the Head of School of the Yeshiva College schools, the first and largest Torah school in Southern Africa.
2014-present: Rav Perez returned to Israel with his family within to assume his new position as head at the Mizrachi World Movement. He is the driving force behind the re-invigoration of the Mizrachi Movement worldwide. Over the last five years since assuming his position, Rav Perez has focused on organizational transformation and innovative programming with the collective goal of making Jewish and Zionist identity as relevant and transformative in communities throughout the Diaspora.
He is a renowned orator and is a sought after speakers and scholar in residence in communities around the world.  He is also the author of the book "Leading the Way", which is a collection of writings on some of Jewish life's most important matters – Israel, Leadership, Education, Virtues and Vices, the Days of Awe, and Life and Death.
Rav Perez is completing a masters degree in Jewish History at Haifa University.
Back
Privacy Overview
This website uses cookies so that we can provide you with the best user experience possible. Cookie information is stored in your browser and performs functions such as recognising you when you return to our website and helping our team to understand which sections of the website you find most interesting and useful.