Victoria Cohen de Reimers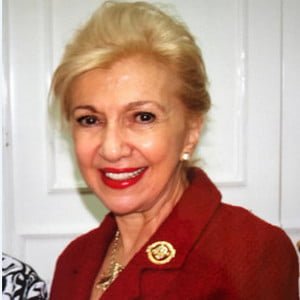 Victoria Cohen de Reimers
​Mexico City, Mexico
Honorary President of the KH-UIA International Women's Division (IWD) 
Victoria Cohen de Reimers, Honorary President of Keren Hayesod – United Israel Appeal's International Women's Division (IWD) and the IWD Advisory Counsel, is passionately devoted to humanitarian causes on behalf of the State of Israel and the Jewish people and gives freely of her time and efforts in order to promote these efforts.
In addition, since 2005, she has been a member of the Keren Hayesod – UIA World Board of Trustees, a position that she previously held from 1990 – 1995, and is the Chair of the IWD Major Donors Committee.
One of the founders of the International Women's Division in 1981, Mrs. Reimers served as its International President from 1987 – 1994 and as Chair of the Women's Division International Board until 2004.  As International President, she was instrumental in getting the Women's Division voting rights on the Board of Trustees, after years of their having "observer" status alone and pioneered the acceptance of the President of the IWD as a full member of the Board of Governors.
Mrs. Reimers also established the Tifferet Lion of Judah and the Or Le'Atid Lion of Judah and created a new award for the Women's Division – the "Award of Excellence.  She has traveled worldwide, motivating and organizing Keren Hayesod Women's Divisions and helping establish new Women's Divisions around the world. Also in this capacity, she served on a variety of Keren Hayesod committees.
In addition, Mrs. Reimers served as a member of the JAFI Board of Governors and  has been a member of various Jewish Agency (JAFI) Committees such as the Former Soviet Union Committee, the Assembly Planning Committee and others.
Together with her extensive international activities, Mrs. Reimers has been deeply involved in her local Jewish community in Mexico. She was President of Mexico's Keren Hayesod Women's Division in 1980 and in 1987 she founded the KH Lion of Judah in Mexico. She also served as President of the Women's Federation, of the Hebrew Tarbut School Board, and of the Jerusalem 3000 Mexican Committee. She was a member of the Mexican Human Rights Committee, a board member of the Mexico-Israel Cultural Institute and board member of Israel's 50th Anniversary Mexican Committee.
Additionally, she is active in the Friends of the Israel Philharmonic Orchestra, Mexico's Pro-Opera Foundation, the Integrus Foundation for Mexican-Jewish Culture and the Tarbut Foundation for Jewish-Zionist Education to name but a few.
Awards
1996  Keren Hayesod International Women's Division Award of Excellence, presented by Keren Hayesod World Chairman, Shlomo Hillel in Jerusalem
1997 Jerusalem 3000 Award, presented by then Mayor of Jerusalem, Ehud Olmert in Jerusalem
1998  Outstanding Women's Division Leadership Award – UJA, Washington
1998 Lion of Judah Award, Keren Hayesod Women's Division, presented by Shimon Peres in Mexico
1999 Instituto Cultural Mexico-Israel 50th Anniversary Award, Mexico
2008 UJC-LOJ-Kipnis Wisson/Friedland Award
Born in Mexico, Mrs. Reimers is married to Eng. Leon Reimers and has three children and six grandchildren. She is fluent in Spanish, English and French.
Back
Privacy Overview
This website uses cookies so that we can provide you with the best user experience possible. Cookie information is stored in your browser and performs functions such as recognising you when you return to our website and helping our team to understand which sections of the website you find most interesting and useful.