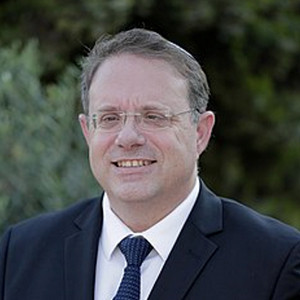 Yaakov Hagoel
Israel
Yaakov Hagoel is the Chairman of the World Zionist Organization and the Head of the Department for Israel & Countering Antisemitism. In the past he served as the Executive CEO of World Betar. Since 2015 serves as the Chairman of World Likud.
Hagoel was born in 1971 in Tel Aviv. Before serving in the Israel Defense Forces, he volunteered for a year in the southern city of Ofakim. During his military service, he served in the Nahal unit. Following his regular service, he joined the army reserves in the Gaza Division. He studied law at the Ono Academic College and earned an LL.B.
During the 36th Zionist Congress in 2010 Hagoel was elected to the position of the WZO's Department for Activities in Israel & Countering Antisemitism. In this capacity, he has chaired initiatives, lectures and conferences in the field of countering Antisemitism. He founded the Center for Countering Antisemitism at the World Zionist Organization.
During the 37th Zionist Congress, which took place in October, 2015, Hagoel was elected to the position of Vice Chairman of the World Zionist Organization.
He served as chairman of the Council of World Zionist Youth Movements, presidium member of the Zionist Executive Committee, member of the WZO Finance Committee and executive CEO of the World Leadership of the Betar Movement. He has been a member of the Board of Trustees of the Jewish Agency since 2010. Additionally, Hagoel serves as co-chair of the Task Force on Countering Antisemitism of the Jewish Agency's Board of Trustees, a member of the Board of Governors of Keren Hayesod—United Israel Appeal, and a member of the Herzl Council and the Jabotinsky's Council of the Israeli Prime Minister's Office. He also serves as a member of Executive Committee of the Ariel University. In 2011 Hagoel was elected to serve as a member of the Yad Vashem Council.
In July 2017, Hagoel led and initiated the Benyamin Ze'ev Herzl Law in the Knesset. This amendment to the Herzl Law pass in both a penultimate and final vote, according to which, the State will participate in funding the WZO's ongoing activities at the Herzl Museum and the Midrasha, along with any costs related to the continued maintenance and training obligations of both the Museum and Midrasha.
Back
Privacy Overview
This website uses cookies so that we can provide you with the best user experience possible. Cookie information is stored in your browser and performs functions such as recognising you when you return to our website and helping our team to understand which sections of the website you find most interesting and useful.