In Gratitude: Dr. (h.c.) Harry Hoffman OAM
2014 Yakir Keren Hayesod Award recipient
Perth, Australia
The life story of Harry Hoffman OAM, Life Governor of the United Israel Appeal, starts with the darkest chapter of Jewish history and continues through today, with Israel at its heart.
Harry was born in 1929 in Dubove, Czechoslovakia. In May 1944, he and his family were deported to Auschwitz, where his mother and two sisters were murdered. Harry immigrated to Australia in 1949; through hard work and persistence, he quickly learned English and developed a career in real estate. In 1953, he married Sylvia Frochter; they have two children, Susan and Alex, and one grandson, Joshua.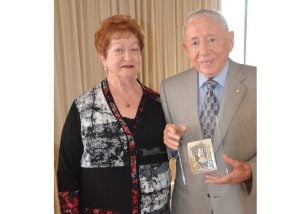 Harry Hoffman OAM, holding the Yakir Award, with his wife Sylvia.
A successful real estate entrepreneur, Harry was awarded the Medal of the Order of Australia (OAM) for philanthropy to community groups and educational institutions in 2000. In 2003, he was awarded the Centenary Medal by the government of Australia.
Harry has been active in various organizations that support a wide range of Jewish and Israeli causes. Valuing highly the Jewish education that he himself was forced to forego, he has given boundless support to educational causes, as well as to the State of Israel.
He is Life Member of Carmel School in Perth, which, in 2009, was renamed the H & S Hoffman and G Korsunski Carmel School.
Harry and Sylvia are long-standing supporters of the Hebrew University in Jerusalem, which, in the spring of 2012, bestowed an honorary doctorate degree on Harry.
On the occasion of his 80th birthday, Carmel School published a book about Harry's life, Hate Never Sat at my Table, written by Christina Dullard OAM. In her words: "Harry's story is a tale of resilience in the face of adversity; a story of robust optimism, opportunity and exhilarating success, despite diverse and significant challenges which few of us have ever faced; an inspiring story of a remarkable life and partnership which exemplifies yishar koach (from strength to strength)".
Throughout the years, Harry constantly assumed the highest level of commitment. In recent years he responded to the needs of the Ethiopian immigration and the Former Soviet Jewry immigration, the Argentinian crisis and the calls for support at times of war with Lebanon and the Palestinians. Harry has understood his role and proudly served the State of Israel through his support of the United Israel Appeal.
For his leadership, generosity and unswerving devotion to Israel and its people, Harry Hoffman OAM is most deserving of being a Yakir Keren Hayesod Award recipient. His grandson Joshua received the Award on his behalf, this past June, from the leadership of our organization, in a moving ceremony at Mizpeh Ramon, in the Negev.
Thanks again for all that you have achieved until now, dear Harry, and best wishes for many more years of good health and happiness with your loved ones, as well as continued activity on behalf of Israel and the Jewish people!
For his leadership, generosity and unswerving devotion to Israel and its people, Harry Hoffman OAM is most deserving of being a Yakir Keren Hayesod Award recipient
Privacy Overview
This website uses cookies so that we can provide you with the best user experience possible. Cookie information is stored in your browser and performs functions such as recognising you when you return to our website and helping our team to understand which sections of the website you find most interesting and useful.