In Gratitude: Martin Meir Widerker
Decades of generosity and leadership
Stuttgart, Germany
"I've always looked for challenges"
There was a full house at Tel Aviv's Charles R. Bronfman Auditorium (Heichal Hatarbut) on November 30, 2015, for a hazanut (Jewish liturgical songs and prayers) concert. But this was not just one more performance in the rich cultural tapestry that Tel Aviv offers its residents and visitors. It was, rather, a very special occasion with a program featuring hazanut –inspired prayers and Shabbat songs composed by Martin Meir Widerker. Nor was the date of the concert chosen randomly: it was the Hebrew date of Martin Meir Widerker's 80th birthday ("gvurot"). The audience greeted the composer and world-famous cantor Itzhak Meir Helfgot with warm applause.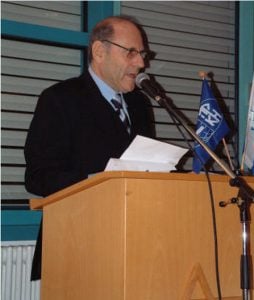 It's hard to believe that the man we meet in the lobby of a well-known beachfront Tel Aviv hotel is already 80. His unique life story and still-wide range of activities belie his age.
Martin Meir was born in Tel Aviv in 1935 to parents of Polish origin and grew up in a Zionist home. At a very young age already he hid Etzel flyers under his mattress and, as a member of the Learning and Working Youth movement, he participated in an operation to help "illegal" immigrants escape British police and integrate into neighboring communities after landing on the soil of Eretz-Israel.
In 1947, Martin Meir traveled with his parents to Communist Poland to visit his father's brother, a devoted Communist and the family's sole survivor of the Shoa. However, they found themselves trapped in Poland because of their Polish passports and spent the next ten years in Wrocław. It was there that Martin Meir was discovered as an exceptionally gifted young musician. He gave his first concert at the age of 12 and finished the conservatory at 13. As a young prodigy, his musical path seemed assured – until he encountered a teacher who destroyed his love for music. He made a 180 degree-turnabout and chose a technological career.
In 1956-57, a wave of sharp anti-Semitism engulfed Poland, and the Widerkers were forced to flee. They settled in Stuttgart, Germany, where they had family, and Martin Meir began engineering studies (he had been denied access to Moscow's prestigious Lomonosov University because of his "Zionist tendencies"). In order to earn a living during his studies, he worked as a window cleaner. He slowly broadened his activities, accumulated employees, and became involved in the real estate field. As time passed, he became a highly successful businessman, who also spent five years in the United States and Canada.
In 1968, at the age of 33, he was elected to the Stuttgart Jewish Community Board, beginning a career as a first-ranking Jewish leader that continues until today. Martin Meir was soon noticed by Ignatz Bubis z"l, the legendary leader of German Jewry (and KH Goldstein Prize recipient in 1998 ) until his death in 1999, who groomed the young man as his disciple. Martin Meir served as a member of the Repräsentanz – the board of directors – and then as Chairman of the Jewish community for 40 years, developing, amongst other programs, a wide range of Israel/ Jewish -centered activities.
Martin Meir contributed intensively to the foundation of a Jewish elementary school in Stuttgart, a new building for elderly care, the creation of a new Jewish sports center, the establishment of the "Karl-Adler" youth music competition, and – in addition to a substantial related donation – the construction of a new synagogue in the city of Ulm, which included serving as community representative in the land plot identification and negotiation, and as expert and juror during the architectural competition process. The coronation of his activity for the "IRGW" (Jewish community of Baden-Württemberg) were his successful negotiations with the government of Baden-Württemberg, leading to the ratification of a state funding contract. In 1979 Martin Meir Widerker co-founded Stuttgart TSV Makkabi and he remains the number one chairperson of the association.
During the 1973 Yom Kippur War, he and Henry Ehrenberg z"l, at that time leader of KH Germany, drove several nights in torrential rain and freezing cold through towns of Baden, Württenmberg, going from one Jewish home to another, waking every everyone up in order to get contributions for the KH Emergency Campaign for Israel, which was under attack. With such a background, it was only natural for Martin Meir to be elected, in 1975, KH Stuttgart Chairman – a position he held until recently, while also serving as KH Germany's National Vice-Chairman. He is particularly proud of the fact that the organized Stuttgart community makes an annual contribution of 15,000 Euros to KH – making it KH's maybe most generous donor community in Germany.
It is difficult to summarize in the short space at our disposal a life like Martin Meir's. Even after adding that he flies a High Performance Aircraft and is a confirmed sportsman and an adventurous underwater diver, the picture is not complete. Martin Meir derives his energy and talents from both his family (married to Carmela, he is the father of two sons and two daughters, one of whom lives in Tel Aviv) and his deep-rooted faith in God, defining himself as "national-religious" ("dati-leumi"). Martin Meir and Carmela's four children follow in their father's footsteps and are active in Jewish organisations.
As a dedicated Jew and Zionist, Martin Meir is deeply concerned by what he sees as "a growing lack of interest by young Jews in their future as Jews and in Israel's problems". "There is great assimilation and it is increasingly difficult to involve young Jews in the community and in Israeli affairs", he says, and adds: "Maybe we didn't find the way to reach them with the language and methods we used, but basically there is a lack of emotion. These issues no longer engender the emotions we felt at their age. Perhaps current events will make them more conscious that they must mobilize to defend their people's traditions and culture".
After completing his community service for the Stuttgart Jewish Community, Martin Meir had more time for himself, enabling him to return to one of his most cherished loves – music. As noted above, several of his compositions have just been performed in Tel Aviv – something that is a source of great joy to him (More about his musical compositions is to be found out under www.martinwiderkermusic.com, Youtube and Facebook).
Dear Martin Meir, we are proud to count you amongst our leaders, donors and volunteers. Thank you for all that you have achieved until now, and best wishes to you and Carmela for many more years of good health and happiness with your loved ones, along with continued activity on behalf of Israel and the Jewish people!
Privacy Overview
This website uses cookies so that we can provide you with the best user experience possible. Cookie information is stored in your browser and performs functions such as recognising you when you return to our website and helping our team to understand which sections of the website you find most interesting and useful.