In Gratitude: Nathan Shafir
​Vice President of UIA Victoria, Australia
40 Years of Boundless Dedication
Nathan Shafir's recent visit to the KH Head Office in Jerusalem presented the perfect opportunity to pay tribute to this long-time leader of UIA Victoria, who has dedicated his life to furthering the wellbeing of Israel and the Jewish people.
Volunteering and community work have always been central to Nathan's life. Born in Melbourne, he has been active in UIA Australia for 40 years. Already in the 1970s, he was chosen as Young UIA Chairman. He went on to serve as Chairman of UIA Victoria, Chairman of the Ami Group (Main Appeal) and Vice President of UIA Victoria – a position he has held for the past two years.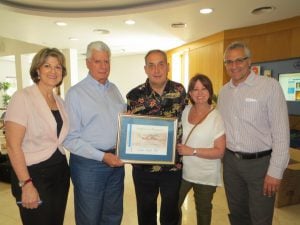 From left to right: Irit Barash, KH Director of English-Speaking Countries; 2007 Yakir Award recipient, Jack Smorgon AO, former UIA Victoria Chairman; Nathan Shafir, holding the certificate attesting to his inclusion on the Recognition Digital Board in the KH Head Office; his wife, Ruth; and Greg Masel, KH Director-General.
Nathan is a long-term donor to UIA Victoria, along with his parents, Arthur and Musia Shafir, his siblings, Eugene and Yvonne, and his son Benjamin, himself an executive member of Young UIA Victoria, While he has contributed his significant communication skills, volunteering experience and time to the UIA VIC campaigns over the years, Nathan's most important work focuses on maintaining ongoing relationships with UIA volunteers and canvassers: giving training sessions, leading missions to KH-UIA sponsored projects in Israel and more. One of Nathan's most cherished experiences was travelling to Ethiopia to visit remote Jewish communities. He was presented with an award by Shimon Peres in 1994 at the UIA World Conference.
Nathan is also an active volunteer and board member of various community organizations, including the Mount Scopus Foundation, the Maccabbi and Essendon Football Clubs, the Melbourne High School Old Boys and the Australian Labour Party.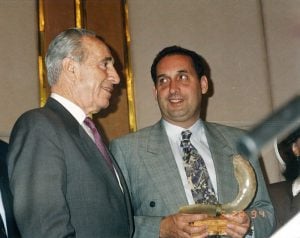 Nathan Shafir is presented with an award by Minister of Foreign Affairs Shimon Peres at the KH-UIA World Conference (1994).
Since 2008, he has taught marketing at the Monash University of Melbourne, where he created the Monash staff philanthropy appeal.
Nathan is the loving and devoted husband of Ruth, father of Jonathan, Benjamin, David and Daniel, and step-father of Jordana.
The worldwide Keren Hayesod family thanks Nathan for everything that he has done and will continue to do for Keren Hayesod-UIA and Israel, and wishes him many more years of involvement and success in all his endeavours!
Privacy Overview
This website uses cookies so that we can provide you with the best user experience possible. Cookie information is stored in your browser and performs functions such as recognising you when you return to our website and helping our team to understand which sections of the website you find most interesting and useful.