In Gratitude: Sami Bollag z"l
2012 Yakir Keren Hayesod Award recipient
​Zurich, Switzerland
Sami Bollag was born in Lucerne, Switzerland, in 1942, into a religious family. He planned to become a rabbi, but eventually changed course and entered the clothing business after completing his military service. He studied business and gained practical experience in Great Britain, after which he joined his father's business. In 1974, he decided to move the company's offices to Zurich. At the same time, he became involved in the community as a member of the synagogue's board.
Sami's involvement with KH began in 1980, when former IDF Chief Rabbi, Mordechai Piron, then Chief Rabbi of Zurich, put him in contact with the KH representative there. This was the beginning of decades of ongoing dedication and outstanding generosity, which were reflected at the Kedma Youth Village, as well as in projects in Beersheva, Rehovot and all over Israel.
A highly successful businessman in the fashion sector, Sami joined the local KH board and was KH German and Italian-speaking Switzerland Chairman in the years 2001-2016, exemplifying our organization's highest values. He was Chairman of the KH 2005 World Conference Steering Committee, sat on Keren Hayesod Executive and on the JAFI Board of Governors and was also co-President of the P2G Partnership in Rehovot.
On June 18, 2012, Sami was awarded the 2012 Yakir Keren Hayesod Award by then President Shimon Peres z"l and KH leadership.
He was a model worthy of emulation and a source of inspiration for all those who were privileged to know him, and will be sorely missed. We extend sincerest condolences to his wife Anette, his daughters and the entire family.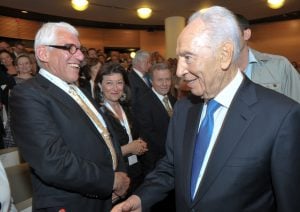 Sami Bollag z"l with President Shimon Peres z"l
May his memory be blessed
Privacy Overview
This website uses cookies so that we can provide you with the best user experience possible. Cookie information is stored in your browser and performs functions such as recognising you when you return to our website and helping our team to understand which sections of the website you find most interesting and useful.