Yom HaAliyah (Aliyah Day)
Dear Friends,
In honor of Yom HaAliyah (Aliyah Day), the Israeli holiday in which we celebrate those who have made Aliyah and we recognize the importance of Jewish immigration to the state of Israel, we invite you to join us in marking this special occasion by taking a look at Aliyah over the years:
Keren Hayesod & Aliyah
Since the establishment of the state of Israel, Keren Hayesod, together with the Jewish Agency and the Government of Israel, has assisted more than three million Jews to immigrate to Israel.
Keren Hayesod is a global leader in supporting Aliyah and absorption. Last year, we allocated $7.8 million to help new immigrants coming to Israel, providing them with resources to have an easier absorption process.
Across Israel, we support 21 absorption centers, which provide new immigrants with their first home, a place to study Hebrew and receive support in planning for their future in the state of Israel.
Making Aliyah is not a simple decision or task. It involves leaving behind everything you were once familiar with, often times family, friends and a familiar culture. Some immigrants have an easy absorption process, while others face many challenges.
To be a new immigrant demonstrates an immense amount of bravery.
The millions of Jewish people who have decided to make Aliyah and return to the Jewish homeland show that the dream of having a Jewish state is alive and thriving.
Even under difficult circumstances, like the crisis we are all facing now, people continue to make Aliyah. Around 16,000 Jews from all over the world have immigrated to Israel during the time of the Coronavirus crisis and will continue to do so.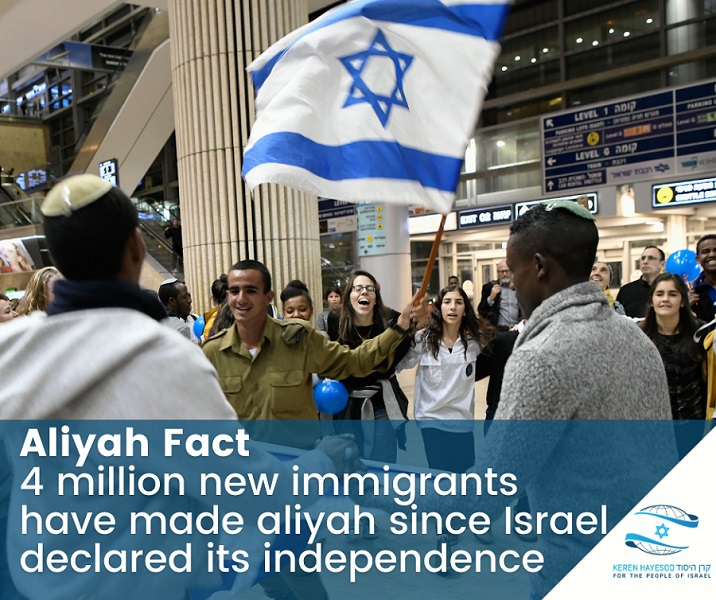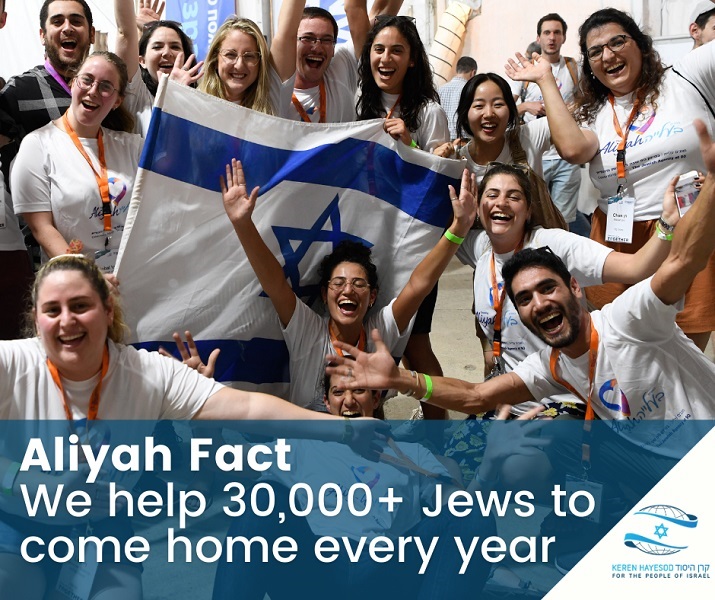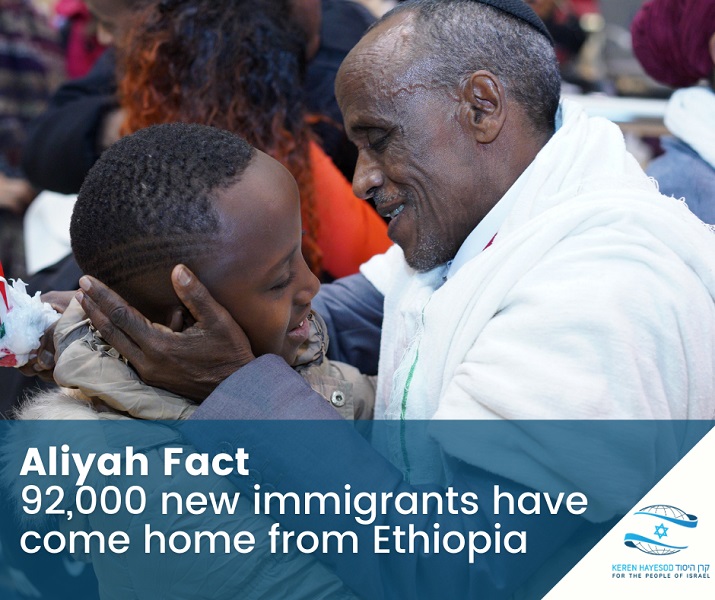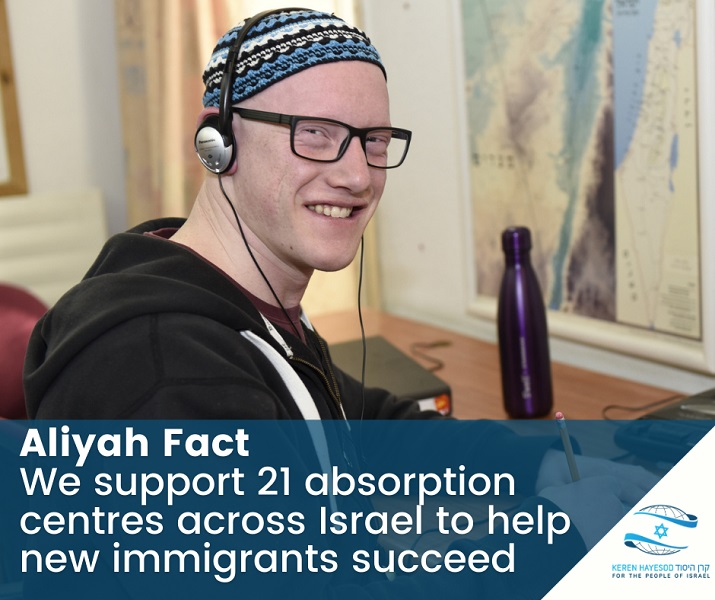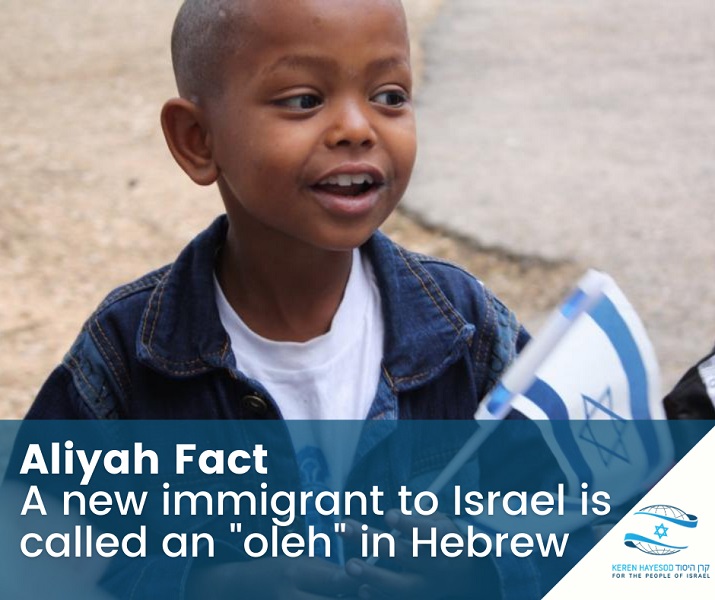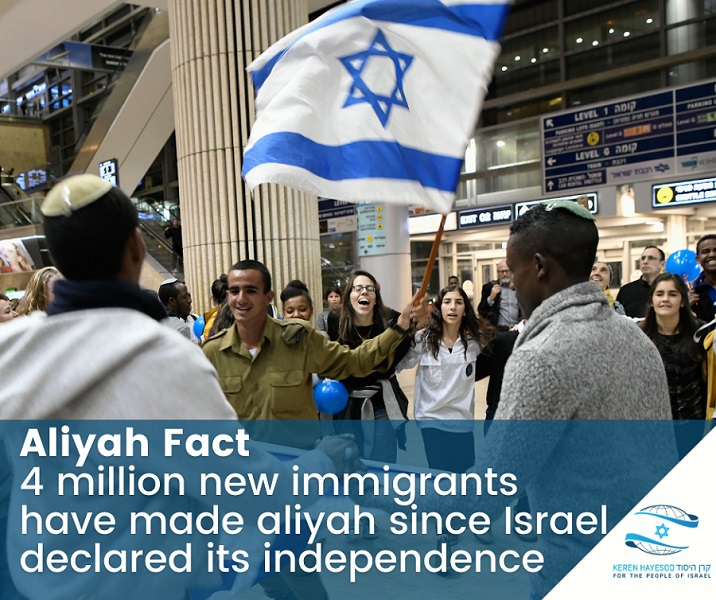 According to the Ministry of Aliyah and Absorption:
Professions of New Immigrants
New immigrants play a significant role in the Israeli economy, serving in various professions across many different industries:
400 artists and athletes are estimated to immigrate to Israel every year
12,000 doctors and medical professionals have come to Israel
12,074 teachers who are active in the teaching profession have immigrated to Israel over the last decade
25,941 immigrants are in the technology and engineering profession
Where are New Immigrants From?
Every year, Jews from around the world immigrate to Israel. It is estimated that Jews from about 80 countries immigrate to Israel. Over the past decade 146 different countries have been represented by new immigrants.
The top five countries where Jews immigrate from:
Russia – 73,534
Ukraine – 49,682
France – 39,571
United States – 34,721
Ethiopia – 11,097
Interestingly, eight new immigrants made Aliyah to Israel from Iran this year.
Where do New Immigrants Live?
Immigrants settle in cities across Israel, however, there are large concentrations that settle in major cities. The top five cities in which immigrants from the last decade have settled:
Tel Aviv – 30,308 new immigrants
Jerusalem – 28,136
Netanya – 25,734
Haifa – 21,495
Ashdod – 13,298
In 2020, Jerusalem has been the leader in the absorption of immigrants, 2,450 new immigrants.
How Old are New Immigrants?
The age of most immigrants over the last decade is under 44, with:
26% of immigrants aged 0-19
43% aged 20-45
Did you know, the oldest immigrant to make Aliyah in the last decade immigrated at the age of 105 from Russia!
The youngest immigrant to make Aliyah over the last decade was four days old from France.
In 2020, the oldest immigrant to make Aliyah was 97 years old from Canada, the youngest was 20 days old from the UK.
Israel's Minister of Immigration and Absorption, Pnina Tamano Shata shares her experience in learning about Keren Hayesod and the important role the organization plays in facilitating and supporting Aliyah:
Wishing all those who have made Aliyah a happy and healthy journey in the state of Israel.
We thank all of you for supporting the people of Israel and helping to bring the Jewish people home to the Jewish homeland.
Privacy Overview
This website uses cookies so that we can provide you with the best user experience possible. Cookie information is stored in your browser and performs functions such as recognising you when you return to our website and helping our team to understand which sections of the website you find most interesting and useful.