Keren Hayesod salutes Israel's lone soldiers!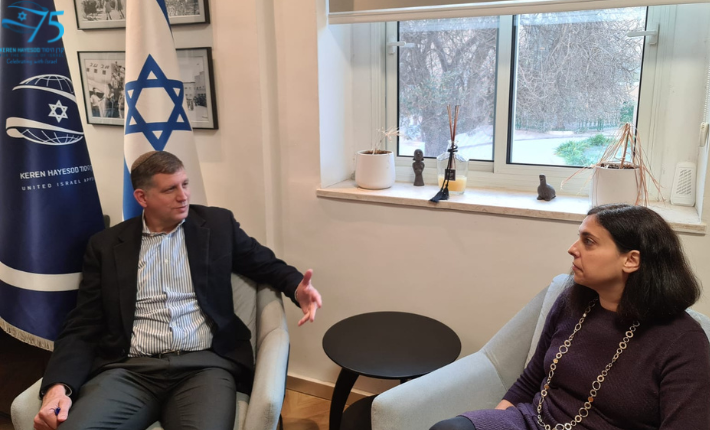 An Interview with Sam Grundwerg – World Chairman of Keren Hayesod
Each year, a few thousand new immigrants serve in the IDF as lone soldiers, or chayalim bodedim. This week in Israel is שבוע הצדעה לחיילים בודדים, a chance to honor and salute our nation's beloved heroes.
We chatted one on one with Keren Hayesod World Chairman Sam Grundwerg and learned about his inspiring experience as a chayal boded in the nineties.
KH: What motivated you to make Aliyah and to become a lone soldier?
As World Chairman of Keren Hayesod and the work that we do together with our strategic partner The Jewish Agency for Israel — helping to support lone soldiers — it's something that's very close to my heart.
There are a few thousand lone soldiers dedicating time in active service in the IDF. For me it hits home, because 30 years ago exactly I served as a lone soldier. I came to Israel when I was 17. When I was 19, I volunteered in the IDF as tank gunner. Back then it was the early 90's and it was different than it is today. The whole concept of a lone soldier, as rightfully it should have, really has become a very recognized status.
What motivated me to move to Israel and to join the IDF? I grew up in a very Zionist home, with a very strong Jewish identity, a sense of being part of the Jewish people, and with an appreciation for the fact that we have a sovereign State of Israel as a Jewish people and that was something not to be taken for granted. Even though the State was founded before I was born, it's something that our previous generations didn't have. I am the grandson of Holocaust survivors and the great-grandson of those that were murdered in the Holocaust, and this had a strong effect on me. If I had the opportunity to come live in Israel and serve in Tzahal and defend Israel and the Jewish people, that was something that my ancestors didn't have the chance or privilege to do, so I wanted to do it.
KH: Who supported you as a lone soldier outside of the IDF?
I lived in a community in Efrat — which is actually where I live today – and I had a roommate who was also a lone soldier from England and there were (and still are) a lot of anglos, olim and Israeli families in that community who helped us – whether they had made Aliyah from the United States, or England, or other places in the world. I joke about it, but it's true, that there were so many families that wanted to do our laundry that we'd come back from the army and would literally split our laundry into piles so that each of the families would have an opportunity to help us. The same happened with Shabbat meals; sometimes we would schedule two or three lunches on a Shabbat morning trying to fit in all of our invitations.
Even though the concept of a lone soldier wasn't as developed as it is today, even back then there were many individuals and families who looked out for me. It was really special and that's what's really special about being part of Am Yisrael.
KH: What an inspiring, warm memory. Did any other experiences stand out for you?
One of the things I remember is that the guys I served with could never understand what would possess us to volunteer to serve if we didn't have to. The way they saw it, they had no choice to be in the army since they were born here, whereas we were there by choice. That's something that stays with me, and it obviously left an impression on them.
In the beginning I didn't speak much Hebrew. A lot of people asked me where I learned Hebrew. Even though I had a Jewish day school background, I couldn't really speak conversationally. In the beginning, in the IDF, if everyone ran in one direction, I ran in that direction, until eventually I ended up learning Hebrew.
There were a lot of really good memories, but I think the biggest thing was really feeling embraced by the community. Not just in the specific neighborhood or town that I lived in, but anybody in Israeli society who would hear at the time that I was a lone soldier who didn't have any immediate family here, and that I was volunteering and choosing to be here – there was such a great sense of appreciation on their part and that's something that always stuck with me.
KH: Is there a certain message that you would like to share to our chayalim bodedim who are currently serving?
As World Chairman of Keren Hayesod and the work that work that we do, and the programs and projects that we support together with The Jewish Agency for Israel that help to support lone soldiers, I join in in saluting all of them and saying, 'Thank you, and kol hakavod, for making such a sacrifice.' All Tzahal soldiers make a sacrifice. And when you look at the chayalim bodedim who are away from their families and are here by choice, it's an even greater sacrifice.
The other message is that as much as we call them chayalim 'bodedim', 'lone' soldiers, obviously they are not alone. They should never feel alone. We are always there to support them.
KH: We thank you, Sam, for your service in Tzahal, and applaud and honor the few thousand lone soldiers who are currently dedicating themselves to ensure a bright, secure future for the State and People of Israel.
Keren Hayesod in collaboration with The Jewish Agency for Israel and the Ministry of Aliyah and Integration is proud to support lone soldiers in their transition to civilian life with various kinds of social, financial, mental health and employment assistance.
support Lone Immigrant Soldiers
Privacy Overview
This website uses cookies so that we can provide you with the best user experience possible. Cookie information is stored in your browser and performs functions such as recognising you when you return to our website and helping our team to understand which sections of the website you find most interesting and useful.