Passing of Julia Koschitzky z"l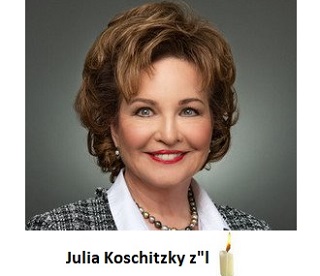 With great sorrow, we deeply regret to inform you of the passing of Julia Koschitzky z"l, Keren Hayesod's Honorary President, member of Keren Hayesod's World Board of Trustees, member of the Advisory Board, and honorary member on the Jewish Agency's Board of Governors.
On behalf of the worldwide family, donors, and leadership of Keren Hayesod-United Israel Appeal, we send her husband, Henry, her children Sarena and David (past Chairman, World Board of Trustees), Hartley and Faye, Jonathan and Tamar, and Leelah and Joseph our deepest condolences.
Julia z"l was a visionary leader, philanthropist, and advocate for the Jewish people, who dedicated her life mission to strengthening the people of Israel and the bond between Jewish communities abroad and the state of Israel.
Over the years, Julia z"l became an integral part of Keren Hayesod, having served in many important and strategic roles that helped Keren Hayesod reach many great achievements.
Julia's z"l support for the Kesher Seminar – a staple program of Keren Hayesod's Young Leadership division – has helped to foster and nurture the next generation of Jewish leaders and has brought hundreds of young Jewish adults from around the globe to Israel as participants on the Kesher Seminar.
Through this unique opportunity, and thanks to Julia's support, they have forged new relationships with other likeminded individuals, while also discovering a new connection to the state and people of Israel.
Julia's z"l love for the state of Israel and the Jewish people was an important part of her upbringing, having established a foundation at an early age that shaped her desire to be an advocate for the Jewish people and an instrumental force in safeguarding world Jewry.
Among one of the many examples of her leadership is her role in Operation Exodus, which brought thousands of Jews from the Former Soviet Union to Israel in the 1990's.
From June 1992, to June 1997 Julia z"l was Chair of the Keren Hayesod World Board of Trustees, having completed a two-year term as President of the United Israel Appeal of Canada. She served as Chair of the Israel Now Consortium and as Chair of Israel Advocacy for the Toronto Jewish Federation.
As U.I.A. President, from 1990 -1992, she had an important role in shaping the relationship of Canadian Jewry with Israel, with particular reference to UIA's mandate in supporting human, social and educational needs.
From 1998 to 2003 she served as Chair of UIA Federations Canada, the organization resulting from the amalgamation of UIA of Canada and CJF Canada. She was Chairman of the Toronto UJA Women's Division Campaign in 1985. Three years later, she became General Co-Chairman of the Toronto UJA Campaign. She became increasingly involved with the Jewish Agency for Israel, serving as a Member of the Board of Governors since 1990, a member of the Executive for the past thirteen years, and co-Chaired the Education Department of the Jewish Agency.
Julia z"l was the recipient of many distinguished awards, including the Woman of Valor Award, the Israel Goldstein Prize for her outstanding service to Keren Hayesod, the Washington UJA Federations of North America – special presentation honoring past Chairs of Keren Hayesod, the Bronfman Award to Julia & Henry Koschitzky from Canadian Jewish Congress, and several other awards.
We are certain that Julia's z"l memory will continue to serve as a source of inspiration to the worldwide Jewish community, including the next generation of leaders, and her legacy will serve as a guiding light for generations to come.
The worldwide family of Keren Hayesod-United Israel Appeal joins in expressing our heartfelt sympathy to the entire Koschitzky family during this difficult time. Condolences may be sent to: [email protected]
The funeral ceremony is set to take place today, March 22, 2022, in Toronto, Canada. The burial will take place in Israel on Wednesday, March 23, 2022. More details to follow.
May you be comforted among the mourners of Zion and Jerusalem
Privacy Overview
This website uses cookies so that we can provide you with the best user experience possible. Cookie information is stored in your browser and performs functions such as recognising you when you return to our website and helping our team to understand which sections of the website you find most interesting and useful.