Repairing the fractures of the history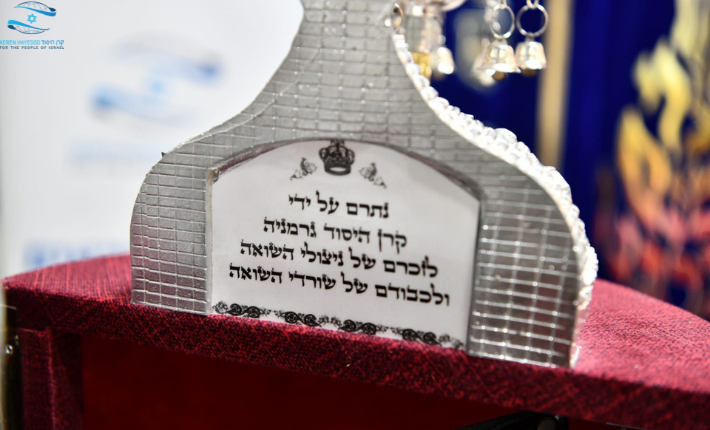 An exciting Hachnasat Sefer Torah event in Amigour Herzliya
This is not just a Hachnasat Sefer Torah Parade.
This picture showcases a historical and emotional event taking place on the eve of the anniversary of Kristallnacht (Night of Broken Glass) in which we see good triumphed over evil.
Tonight, a group of Germans, some of whom are Jewish, some of whom are not Jews, and some of whom are even descendants of families that were part of the Nazi regime, joined together to repair the fractures left by history.
And like fixing broken glass, the pieces slowly came together.
Each one donated a letter, which became a word, a verse, a parasha, and finally a complete Torah book.
This special Torah scroll is now making its way to the Amigour Home in Herzliya, which provides sheltered housing for Israel's elderly and Holocaust survivors, a Keren Hayesod-supported project.
The donations collected for the Torah scroll will go to the benefit of the residents of Amigour, and will also help refugees who immigrated to Israel from Ukraine.
A big thank you to Keren Hayesod Deutschland for the vision and planning of this historic event, which was attended by: Germany's Ambassador to Israel – Steffen Seibert, President of Keren Hayesod Berlin – Nathan Gelbart, and the Mayor of Herzliya – Moshe Fadlon.
And of course, a huge thank you to the donors – who paved a bright path for future generations.
And as said Germany's Ambassador to Israel, Steffen Seibert: "It is our duty to do our utmost to never ever let antisemitism become acceptable again".
Privacy Overview
This website uses cookies so that we can provide you with the best user experience possible. Cookie information is stored in your browser and performs functions such as recognising you when you return to our website and helping our team to understand which sections of the website you find most interesting and useful.