Summary of Gaza Operation Breaking Dawn – Keren Hayesod Update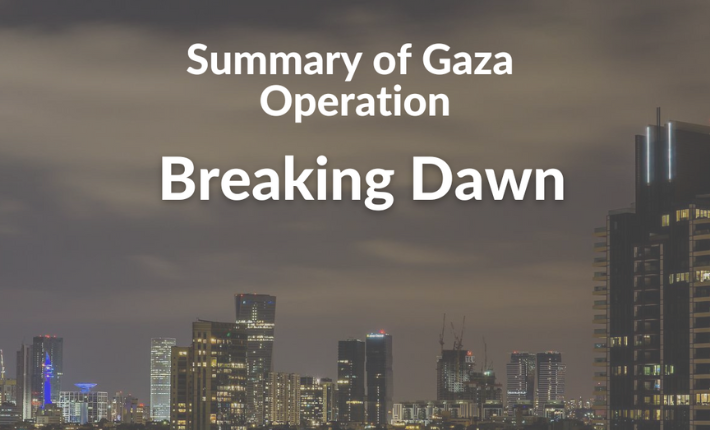 Summary of Gaza Operation Breaking Dawn – Keren Hayesod Update
Ceasefire Now in Effect
A ceasefire took effect last night (Sunday, August 7) at 23:30 Israel time. If the ceasefire is violated, the State of Israel maintains the right to respond strongly. Israel will not allow for any disruption to the lives of the citizens of the State of Israel.
The State of Israel thanks Egypt for its efforts in helping to broker the ceasefire.
Summary of Operation Breaking Dawn
In the almost 55 hours of Operation Breaking Dawn, over 1,000 rockets were fired by the terrorist group, Palestinian Islamic Jihad (PIJ), at Israeli civilian population centers. Though Israel suffered no casualties, scores of Israelis were treated for injuries sustained as they ran to local shelters, and for shock.
Close to 200 of these PIJ rockets fell within Gaza, causing more casualties to Palestinians than from IDF attacks.
More than 300 of the rockets were intercepted by Israel's Iron Dome system, with an accuracy of 96%.
Keren Hayesod on the Front Lines
Throughout Operation Breaking Dawn, we at Keren Hayesod worked to support our strategic partner, the Jewish Agency for Israel, which operated under emergency procedures to ensure the safety and protection of all those under their responsibility in areas under fire.
As we reported yesterday, the Jewish Agency briefed nearly 3,500 Olim in absorption centers, some of whom needed to be relocated to other parts of the country until the fighting subsided.
Social and psychological assistance continues to be provided where needed, and participants in various Jewish Agency programs supported by Keren Hayesod will continue to receive whatever assistance is required.
For any further information and support of our beneficiaries, please contact your local Keren Hayesod representative.
We wish to thank all of you, our dedicated supporters throughout the world, for showing your solidarity with the State of Israel and for your continued support of the People of Israel.
Privacy Overview
This website uses cookies so that we can provide you with the best user experience possible. Cookie information is stored in your browser and performs functions such as recognising you when you return to our website and helping our team to understand which sections of the website you find most interesting and useful.