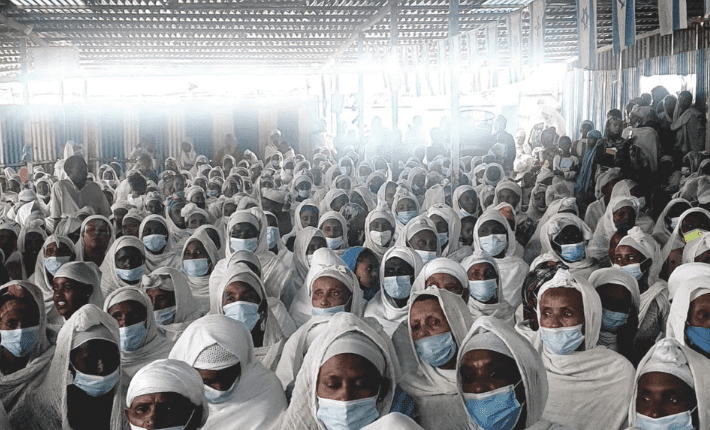 Leadership from Keren Hayesod, The Jewish Agency for Israel, the Jewish Federations of North America, the World Zionist Organization, and The International Fellowship of Christians and Jews are together in Ethiopia right now meeting with the members of the Jewish community before 180 new immigrants will depart for Israel on Wednesday.
Accompanying them on the flight will be members of the special delegation, as well as Yaakov Hagoel, Chairman of the World Zionist Organization and Acting Chairman of the Executive of the Jewish Agency, and Pnina Tamano-Shata, Israel's Minister of Immigration and Absorption.
They will be greeted at Ben Gurion Airport by
Sam Grundwerg, World Chairman of Keren Hayesod -UIA
Another flight will arrive on Thursday with 160 more new immigrants from Ethiopia.
This is an emotional, exciting, and complex operation that will bring Ethiopian Jews home to Israel after years of waiting to be reunited with their families in the Holy Land.
This Aliyah operation is the beginning of the second phase of Operation Tzur Israel, which was enacted to help reunite thousands of Ethiopian Jews with their families that are already in Israel.
Keren Hayesod is proud to support this initiative and we will continue to be there for the new immigrants, together with the Jewish Agency for Israel and the Ministry of Aliyah and Integration, as they begin making Israel their new home.
Photo credit: Inbar Ruimy, Keren Hayesod
Privacy Overview
This website uses cookies so that we can provide you with the best user experience possible. Cookie information is stored in your browser and performs functions such as recognising you when you return to our website and helping our team to understand which sections of the website you find most interesting and useful.