Keren Hayesod Hosts Abdallah Chatila in Israel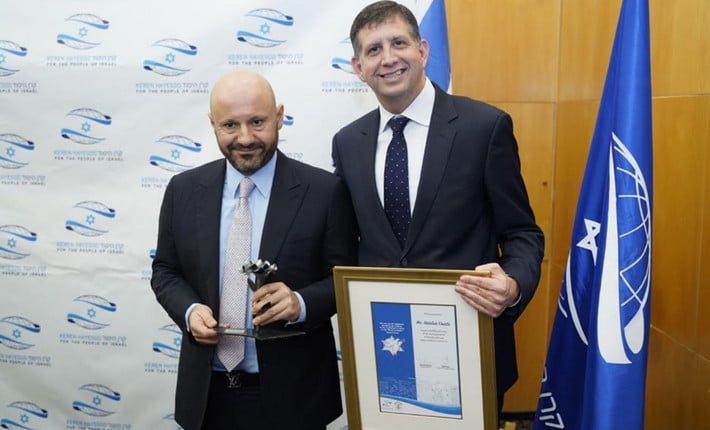 News
"You have taken a very dark chapter in Jewish history and the history of humanity, and shed light on it by advancing tolerance and hope", Sam Grundwerg, World Chairman of Keren Hayesod-UIA told Abdallah Chatila during a two-day visit to Israel earlier this week as the honored guest of Keren Hayesod.
The Swiss Lebanese-born businessman made headlines after announcing his decision to purchased for €600,000 worth of Nazi memorabilia, from a Munich-based auction house, in order to keep them falling into the wrong hands. He called Henri Levy, director of Europe in Keren Hayesod and asked to transfer them to Keren Hayesod. "I considered various options for disposing of them, including burning them publicly", he said at a special reception for him given by the World Zionist Organization. "I felt confident that as a national institution belonging to the entire Jewish people, Keren Hayesod would know what to do with them", he said.
After various consultations, Keren Hayesod decided that the most appropriate repository for the items would Yad Vashem – the World Holocaust Remembrance Center. Chatila accompanied by 10 friends were given a tour of Yad Vashem, including a behind-the-scenes glimpse of its collections.
Israeli President, Reuven Rivlin who hosted Chatila at his official residence, thanked him for his generosity, and told him, "Your donation is of great importance at this time, when people are trying to deny historical truth".
During his visit, Mr. Chatila, met beneficiaries of various Keren Hayesod-supported programs. He spoke with Holocaust survivors at the Amigour sheltered home for the elderly in Jerusalem; heard the Amigour choir sing a medley of songs and even joined in the dancing. At the Net@ afterschool technological training program in Ramle he witnessed Jewish, Muslim and Christian youngsters studying together, experiencing coexistence in real time.
Addressing an audience of young adults participating in the Masa Israel Journey, Mr. Chatila explained that he purchased the items and decided to transfer them to Keren Hayesod lest people think the Holocaust was a myth. Having the physical evidence is important, he said, so that people can see that "Hitler, the personification of evil, was real. Anti-Semitism and racism are constantly growing. I want people to see the results of intolerance".
"Hitler must feel very strange knowing that his top hat is in Israel", he added.
"The Jewish people is very fortunate to have friends like you. Humanity is lucky to have you", said Sam Grundwerg, concluding the evening.